Avianca's experience implementing SkyBreathe® with Oscar Lopez
As we look back on our 2023 OpenDay event, one particular conversation stood out to us. We had the opportunity to sit down with Oscar López, Fuel Conservation and Emissions Analyst in the fuel efficiency team at Avianca, and discuss their experience with optimizing their fuel efficiency program with SkyBreathe®. Here is what he had to say.
What problems were you trying to solve with SkyBreathe®?
One of our biggest problems was that we were trying to connect all the parameters from the METARs to the flight information. That was one of the biggest solutions that SkyBreathe® brought us.
Why did you choose SkyBreathe®?
One of the benefits we have from SkyBreathe® is that it comes with MyFuelCoach™. We get to connect all the information to the pilots, and they can see the real results and the data, basically in real time.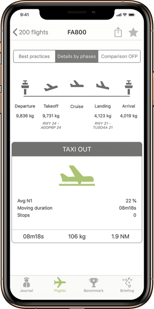 MyFuelCoach™ app
What features do you particularly enjoy?
We enjoy the query editor; that's very cool. We also like the map where we can track the flight almost point by point.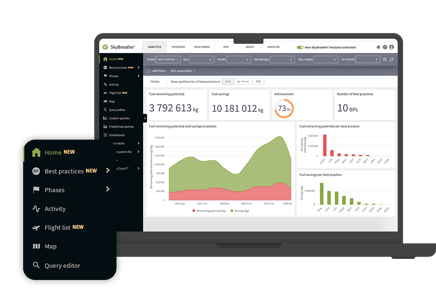 SkyBreathe® Analytics illustration
How did you introduce the SkyBreathe® My Fuel Coach app to your pilots?
We had a group of four pilots, leaders from all the AOCs: El Salvador, Colombia, and Ecuador, and they started to test the app. They made us comments like "We don't understand this, the pilots are not going to understand that," to let us know the questions or the doubts that the pilots were going to have. Using their feedback, we prepared a document to send to the pilots, explaining how to use the app and what they could get from it.
Related content >>> Discover SkyBreathe®MyFuelCoach pilot engagement app

Did you measure
your fuel efficiency metrics b
efore SkyBreathe®?
We measured them, but not in this software. SkyBreathe® is our first fuel software that is basically designed for our efficiency program. We had the metrics, and we measured them in Excel because we did not have big data software. So this is a monster for us; it's a new tool—a good one. This software manages all the big data. And it's fast.
Do you have any tips for airlines starting a fuel efficiency program?
If you have never had a fuel efficiency program, you can start slow and have a step-by-step approach because you will have to try to engage all the people in change. But the results, they will get there.
Related content >>> Interview Jonathan Hess from Corsair
Define SkyBreathe® in one word...
It's like an X-ray, a radiography of all the flight.

---
LEARN MORE
[CASE STUDY] See how Philippine Airlines uses intelligent data to improve fuel efficiency.

>> Download the free case study