Setting up your fuel team is often the first step, but a successful fuel efficiency program can be effective only when all related staff work together and are fully engaged.

The better you communicate with all stakeholders, the more efficient your fuel saving plan will be.
To spread the fuel culture through all departments, the fuel team can use various ways to communicate such as:
A newsletter on fuel efficiency sent on a monthly or quarterly basis
A fuel savings report built every year
If you have a corporate social network, it can also be used to spread the fuel culture
And communication materials such as posters can help to share key messages on Best Practices.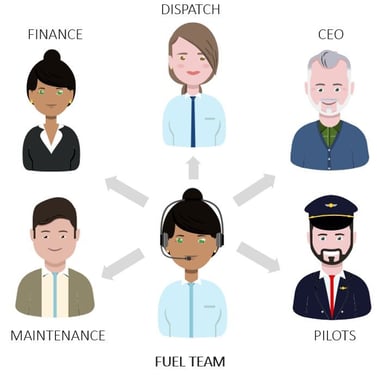 Now let's see how the fuel team can have better communication with each stakeholder:
Communication with the CEO and Finance
Generally, the CEO and Finance need to see the overall savings of the company.
That's why it would be interesting that the fuel team provides:
automated dashboards on KPIs of the overall operations
reporting on CO2 emissions and environmental indicators
reporting on financial indicators.
Communication with Maintenance and Dispatch
For a successful fuel program, your fuel team also needs to communicate with other departments such as Maintenance and Dispatch to provide:
automated dashboards on Flight Planning Accuracy
fuel data to optimize maintenance actions
monitoring of aircraft performance
Communication with Pilots
When it comes to fuel efficiency, pilots are key players since they know the constraints and procedures better than anyone.
For example, you can display fuel indicators in the briefing room to benefit of pilots often passing by, or use ground training session on Fuel Efficiency Best Practices and Standard Operating Procedures, or simulator training to apply best practices in nearly real conditions. Debriefing sessions with Chief Pilot are also ideal moments for that.
But according to us, the most efficient tool is a dedicated interface on a mobile app to provide personal feedback on post-flight analysis such as MyFuelCoach™.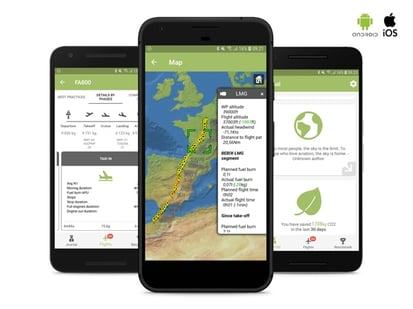 >> Learn more: How to better engage pilots?
Another crucial point for the fuel team is to gather feedbacks from pilots. The easiest and most effective way to do that is a dedicated mobile app. It can be used to feed the fuel team with feedback on ATC constraints/clearance, reasons to add extra fuel, last minute change on board, flight plan accuracy, etc.
But as you have probably already experienced it, change management is complex. Also, without any view on the fuel-saving achievements, it is difficult to keep the operations team engaged. And it is hard to estimate the success of the fuel program and know where you can improve.
That's where innovative technologies such as big data analytics come into the game to help you better measure progress and better communicate with your fuel team!
>> Learn more: How to use big data analytics to improve fuel efficiency?
To overcome the challenge of spreading fuel culture through all departments, SkyBreathe® Fuel Efficiency provides various tools to communicate effectively with all stakeholders.
We would be glad to show you, during a private WebEx how:
A CEO or CFO may access executive dashboards built with SkyBreathe® in a single click.
A Fuel team can share custom analyses with other departments such as Engineering, Dispatch or Maintenance and contributes to optimizing their operations.
Pilots can easily communicate with the fuel team and benefit from the experience of all pilots with statistical data crowdsourced from the company's previous flights.
Ready to go further on these topics? We're here to help!
---
READ MORE
Like what you see? Want to learn more about fuel efficiency?
Discover more case studies and stories from airlines that have been there: