[Webinar] Engage pilots in flight efficiency with end-to-end digital support.
Register to attend this webinar on June 1st, 2023 hosted by Aircraft IT to discover how digital tools help pilots reduce fuel burn at each stage of flight. Save your seat!
In the face of climate change, engaging pilots in flight efficiency has never been more important. As we wait for groundbreaking new technologies to hit the market, ensuring that pilots fly aircraft as efficiently as possible is key to reducing CO2 emissions and achieving the industry's 2050 net zero target - but how do you make it happen?

One key lever is to give your pilots the support they need to make fuel-related decisions at any time quickly, safely, and efficiently. End-to-end digitalization means you can empower your pilots with accurate and actionable fuel insights before, during, and after the flight. Using easy-to-use digital apps, you give them more control over fuel burn and the confidence to apply fuel-saving measures, while keeping safety as a top priority.

Join us for this engaging session with Martin Réot, Regional Account Director at OpenAirlines, to see how pilots can save fuel with minimal workload and maximum impact thanks to digital technology.


What you'll learn

During the webinar, we'll discuss how to:

Apply fuel efficiency best practices at each phase of flight.
Engage pilots in eco-flying initiatives and see real-life success stories from airlines.
Put yourself in pilots' shoes and learn to use digital tools with a live demo of the real-time EFB app SkyBreathe® OnBoard and pilot briefing app SkyBreathe® MyFuelCoach.
Answer all of your questions!
Date & time
📆 Date: June 1, 2023
🕑 Time: 06.30 UTC and 14.30 UTC
⌛ Duration: 1 hour
Speakers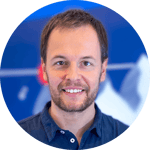 Martin Réot - Regional Account Director at OpenAirlines
Martin, started his career in Air France Ops Control Center, before joining Corsair, ultimately as the Head of OCC and Flight Ops Engineering. He then moved to the UK, working as the Fuel Program Manager for TUI Airlines. Over the last 3 years, he has been the Head of Fuel Efficiency, Sustainability and Consulting products and services within Navblue. He holds a Master of Sciences with a post-graduate diploma in Aviation Management.
Hosted by

Register today!* We look forward to meeting you!
*Please note this webinar is for airlines and aircraft operators only.
FOLLOW US