Introducing the new SkyBreathe® experience for more fuel savings
It's a big day in SkyBreathe®'s history! The world's leading fuel management software is getting more powerful as we're launching a new and improved SkyBreathe® Analytics app 😍

Ready to unleash the full power of data to make bigger savings?
Introducing SkyBreathe® Analytics New Generation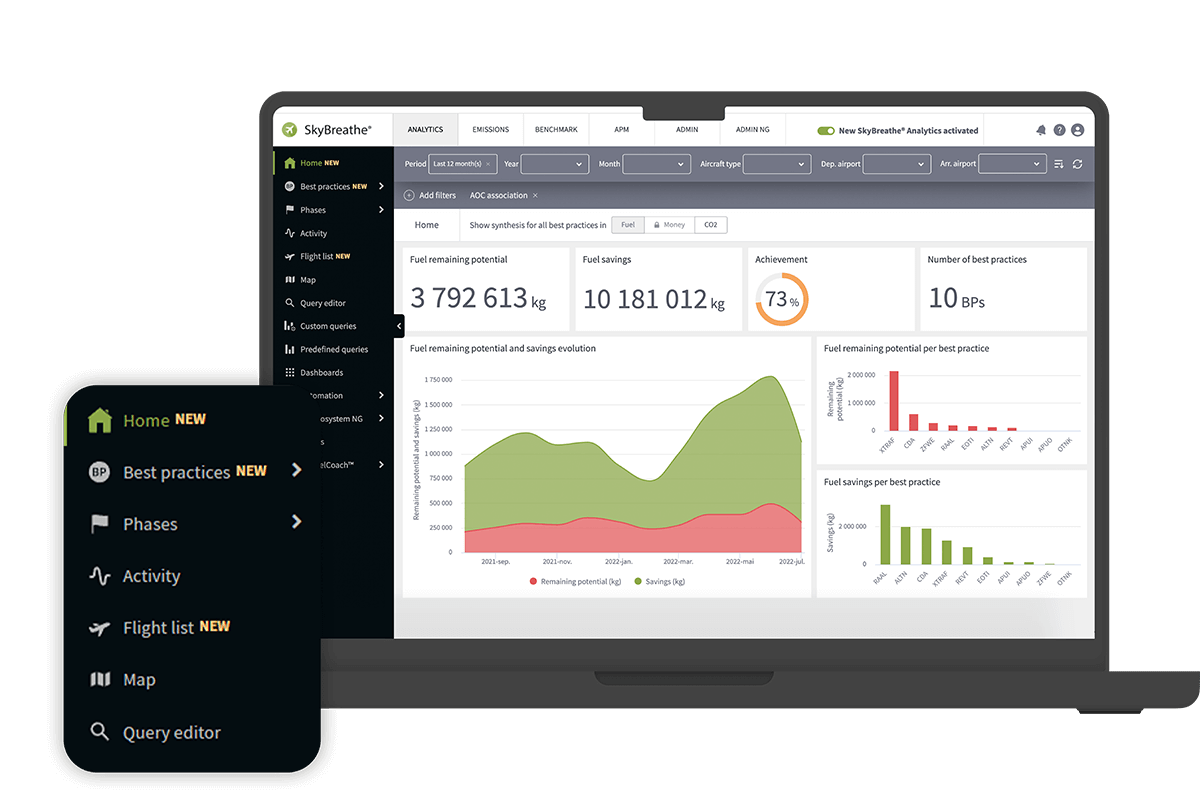 SkyBreathe® has been around since 2013, can you imagine? We're very proud of what we've achieved and even prouder to have such a long-lasting relationship with our partners in this adventure. Our first and oldest client, Transavia, is still a SkyBreathe® user to date and one of its biggest advocates!

Time has passed, but we are still driven by the same passion and ambition to help airlines across the globe reduce fuel burn and protect the environment. Even more so since SkyBreathe® is now used by over 50 airlines worldwide of all shapes and sizes, ranging from 3 to more than 300 aircraft! Among them, we count low-cost airlines such as Norwegian, IndiGo, easyJet, or flydubai; flag carrier airlines like Air France, Philippine Airlines, Avianca, Aerolineas Argentinas; cargo airlines such as Atlas Air, DHL, and even charter airlines.

Our clients inspire us to innovate relentlessly. We tap into the latest digital technologies to continuously improve our products that help airlines rise to the challenges of a fast-moving industry.

Last year, we took a new turn as our flagship software SkyBreathe® became the SkyBreathe® 360° eco-flying platform. Fuel efficiency is a team effort, so we designed this multi-tool solution to involve all stakeholders — Chief Pilots, Fuel Managers, Dispatchers, Pilots, and Performance Engineers, to name a few. The aim was to spread a vibrant green culture in airlines to reduce fuel consumption, CO2 emissions, and costs.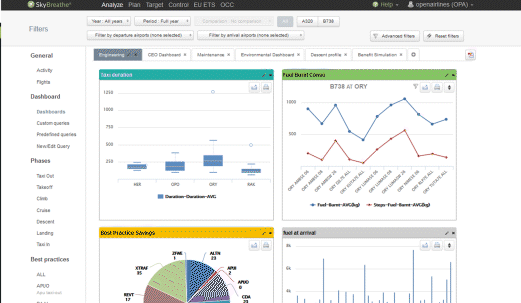 Today, we build on that progress and continue delivering incredible user experience as we launch a brand new SkyBreathe® Analytics interface. We've rebuilt it from the ground up to empower everyone — analysts and non-analysts alike — to do time-saving analyses with ease so they can focus on what's important: making bigger fuel savings. We've built this new version around convenience, new capabilities, and a user-friendly design. Let's discover the new features!
What's new?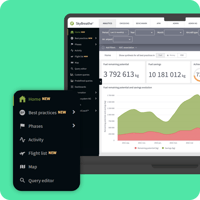 A fresh new look
Reimagined from toes to nose, with smooth and fancy navigation and more actionable information to offer you the best user experience!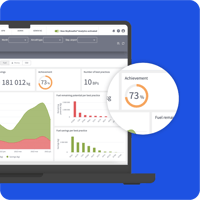 A direct view of your progress and savings
Time is of the essence. See all your key indicators in one click: fuel, money & CO2 savings, as well as your progress at a glance.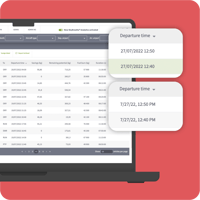 A focus on user experience
Put SkyBreathe® in everyone's hands! Analyses are now simplified, better organized, and more complete to help you turn insights into actions.


Do you want to take a peek at the new interface and see what the excitement is all about? Request a free consultation with one of our fuel experts!
What's next?
And this is just the tip of the iceberg! With many more new features to come & new best practices in the pipeline, SkyBreathe®'s future is looking bright. Until then…
Save fuel, save money, save the Planet!
---
LEARN MORE
Curious about how the new SkyBreathe® Analytics app could help your airline save fuel? Request a free consultation with one of our fuel experts.