Introducing SkyBreathe® 360° eco-flying platform
All fuel efficiency solutions to accelerate airlines' path to reduce CO2 emissions.
The SkyBreathe® software is now a complete 360° platform that integrates multiple products that have been designed to involve all stakeholders and spread a vibrant green culture in your airline to reduce fuel consumption, CO2 emissions, and costs.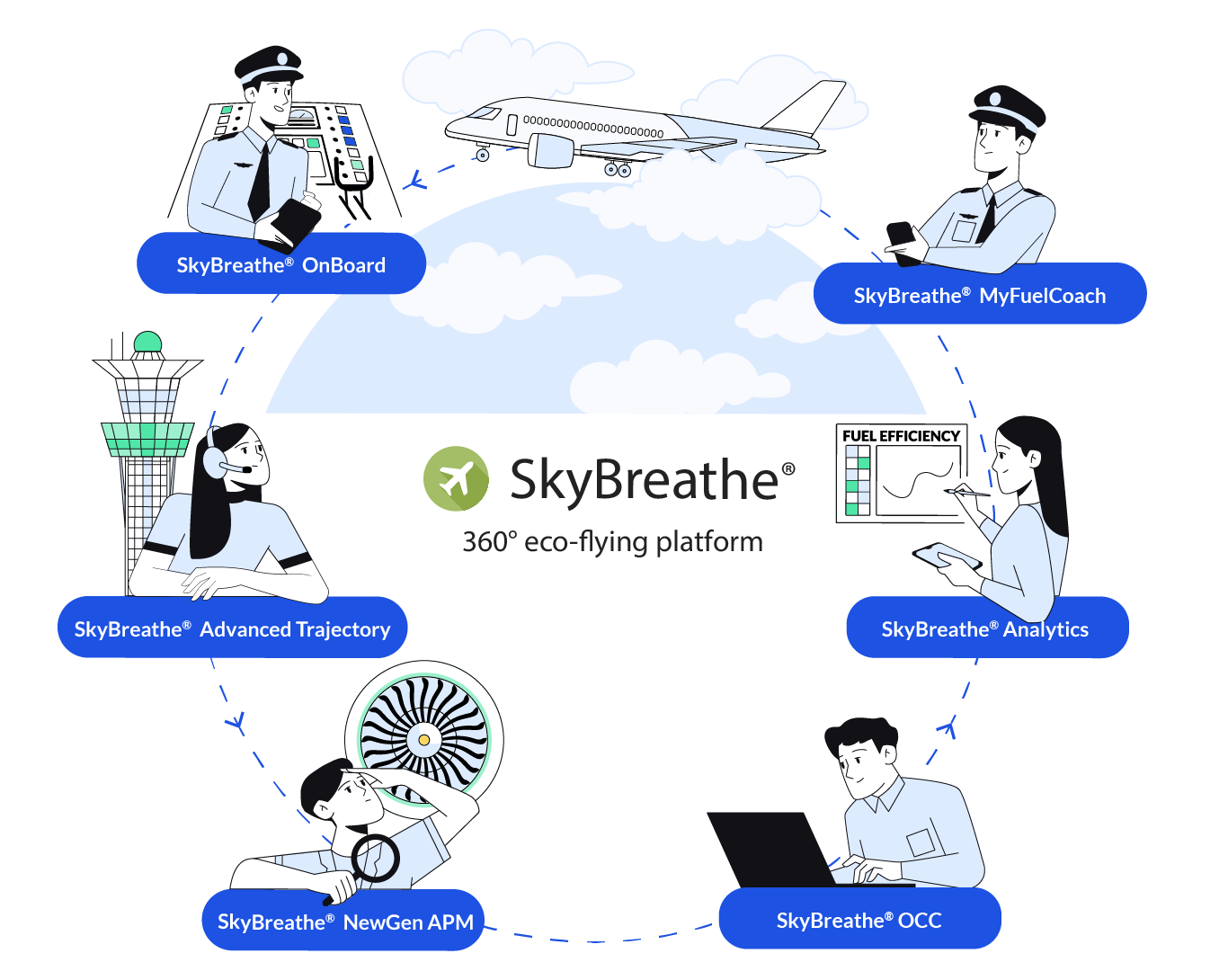 SkyBreathe® is a software that collects all the data from the black boxes, weather, air traffic control, and maintenance. Through Big Data algorithms and Artificial Intelligence, it produces recommendations for airlines and pilots that let them reduce their fuel consumption by up to 5% without any modification of the aircraft and give everyone in an airline the ability to make smarter and faster decisions for a seamless workflow that saves time, increases fuel efficiency and green culture.
This is the ultimate goal of the new SkyBreathe 360° eco-flying platform in which each product is powerful alone and where users can also get the magic by combining them all together. All the integrated products have been thought to involve all stakeholders in the airline's fuel program to minimize CO2, increase fuel savings, and easily spread green culture.
With SkyBreathe Analytics: identify fuel-saving opportunities, monitor progress, and take actions through powerful Big Data and AI fuel management software. SkyBreathe Analytics goes with a dedicated native mobile application for pilots: MyFuelCoach. With MyFuelCoach, pilots can access briefing and debriefing valuable information.
SkyBreathe Advanced Trajectory add-on takes flight analysis to the next level by providing plenty of additional functionalities to identify new savings in trajectories analysis: optimize direct opportunities, analyze routes waypoint by waypoints and improve short approach fuel initiative.
With SkyBreathe OCC: understand and improve on-time performance. SkyBreathe OCC allows airlines to build and share key metrics, investigate root causes and understand reactionary delays.
Airlines can go further in building a new future for greener aviation by getting SkyBreathe OnBoard, and engaging pilots at the right moment with an EFB application that provides real-time support for fuel-saving during the flight in a seamless, natural, and simple way.
With SkyBreathe APM: continuously monitor aircraft performance with an up-to-date view of the entire fleet's health. Get notified of unusual deterioration, identify root causes and take corrective actions.
Combining all these modules, airlines can build and grow a successful fuel efficiency program without having to juggle many different tools, and achieve greater fuel savings while protecting nature, all in one place.
---
LEARN MORE ABOUT SKYBREATHE® 360° ECO-FLYING PLATFORM
Get in touch with us!
Request a free consultation to get personalized help from our fuel experts.
FOLLOW US