Airlines' digital shift drives profit and lowers CO2 emissions
With the air transport crisis, optimizing fuel efficiency and reducing carbon emissions are more critical than ever for the industry. In this context, many airlines turn to digital technology to identify new fuel-saving opportunities. Let's look at how digitalization is driving more sustainable and profitable aviation.
An unprecedented combination of crisis
Recovering from the Covid 19 crisis, aviation has never been under such pressure.
Environmental pressure for a start. Aviation represents more than 3% of worldwide CO2 emissions, and air transport accounts for 12% of transport-related emissions. Given the growth in air traffic, if nothing is done, aviation's carbon footprint is expected to triple or even increase fourfold by 2050.
Emissions reduction roadmap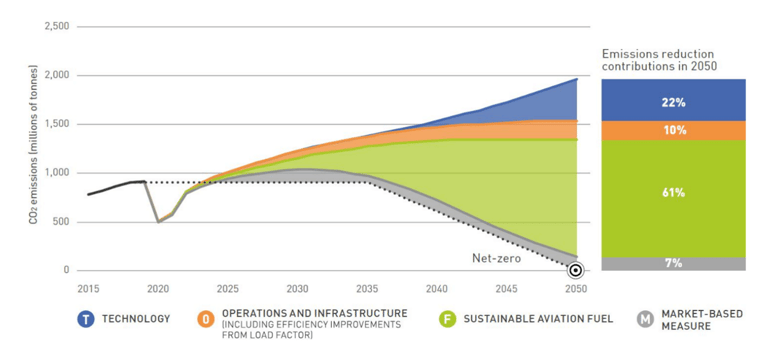 Figure 1: The trend of CO2 emissions if, by 2050, nothing is done to make aviation greener and how it can be mitigated by more efficient operations.
Airlines also deal with increasing defiance and social pressure from the public. Since 2018, an anti-aircraft movement led by the young and influential activist Greta Thunberg has developed worldwide.
And of course, the industry also faces tremendous economic pressure. It is struggling against an unprecedented worldwide crisis, jeopardizing airlines' profitability and cash flow. Even more so as the airlines are now facing a bullish oil market, which is critical as fuel usually represents around 30% of airlines' costs.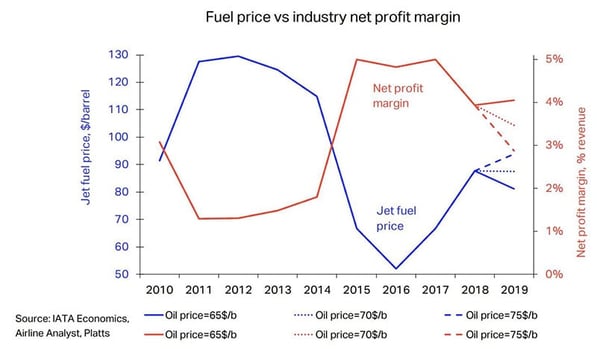 Figure 2: As soon as jet fuel nears 100 USD, airlines historically stop making a profit.
How can airlines cope with these challenges?
Airlines must set credible transition plans aligned with 2050 net-zero carbon targets set by the IATA. Therefore, they need to take immediate actions to reduce their emissions. They must also demonstrate to their customers the impact of these actions in terms of carbon footprint reduction. Additionally, the "world after" is more competitive, and operations are more challenging than before. This means airlines must perform a particularly delicate balancing act between meeting their sustainability goals whilst rebuilding their profit and preserving their cash.
Amongst the existing opportunities to capitalize on to reduce fuel burn and CO2 emissions, digital technology is a proven solution. Did you know that airlines could reduce their fuel consumption and costs by up to 5% thanks to Big Data, AI, and machine learning?
Leveraging digital technology to reduce fuel cost and carbon footprint
The 2022 Climate Change report from the IPCC (International Panel on Climate Change) stated that
"Digital technologies can contribute to mitigation of climate change and the achievement of several SDGs [Sustainable Development Goals] (high confidence).
For example, sensors, Internet of Things, robotics, and artificial intelligence can improve energy management in all sectors, increase energy efficiency [...], while creating economic opportunities (high confidence)."
For airlines, optimizing fuel efficiency through digitalization has a huge potential as it brings immediate results without compromising existing operations or making any modifications to the aircraft.
Software such as SkyBreathe uses sophisticated Big Data Algorithms, AI, and Machine learning to automatically collect billions of flight data from various sources including complete FDR records. It computes achieved and potential savings considering the exact flight conditions. Airlines can understand how their fuel is used, identify the most relevant fuel-saving opportunities, and monitor the progress of their fuel initiatives.
Below are concrete results of how much savings an airline embracing digital technologies could make.

Many airlines have considered the current Covid and oil crisis as opportunities to accelerate their fuel efficiency efforts. This is the case of 50 airlines that have chosen SkyBreathe eco-flying platform such as Air France, DHL, Jazeera, Philippine Airlines, easyJet, IndiGo, Avianca, … They either moved to digital to manage their fuel efficiency program or switched solutions to bring their digital fuel efficiency program to the next level.
Air France selected SkyBreathe® in June 2020 to fulfill their ambition "to be more competitive while becoming a leader in environmental excellence," said Jean Fernandez – Executive Vice President for Flight Operations.
easyJet is currently shifting from its previous fuel management system to SkyBreathe®. David Morgan, Director of Flight Operations at easyJet, said that the platform would enable to "easily identify where improvements can be made now, which will play an important role in reducing our carbon emissions with immediate and concrete results."
More efficient operations will not be enough to reach net-zero carbon emissions but it sure is a step in the right direction. Airlines that understand the power of digital technology in this process have the ambition to come out stronger from the crisis. They are actively engaging for a clean and profitable future for aviation.
---
LEARN MORE
Like what you see? Want to learn more about digital transformation & fuel efficiency?
Download our white paper >> How to use big data analytics to improve fuel efficiency.